What types of decorations and lighting do you offer?
We specialize in elegant static lighting and extreme animated (computer controlled) displays for residential and commercial applications. We can also provide you with professional holiday scenario, wreaths, garland and special effects lighting.
How much will it cost us to have our decorations installed and taken down?  
Each installation is customized to the property—so the customer can invest as much—or as little—as they want! Each proposal is presented with a number of options.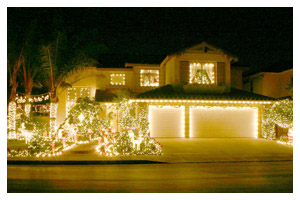 Do we rent the decor, lease it or do we own it?  
With our package programs you rent all the lighting and decorations used in your display. We provide maintenance and storage options to help make the management of your Christmas lighting as stress free as possible.
Will you install lights that we already own and can you store them as well?  
No, we cannot warranty the quality or workmanship of lights we do not provide. All of our lights are the highest quality and custom made to our timers, plugs, and outlets.
Is there a labor warranty just in case the lights stop working or there is a problem?  
We conduct proactive service visits on all commercial jobs throughout the holiday season to make sure your program looks like it did the day we installed it. We also offer expanded services packages that can come in handy for very large displays.
Is there a difference between your lights and the ones I can buy at the big box retailers?  
Absolutely! Our lighting and decorations are manufactured to professional standards —longer-life bulbs and more flexibility. We also feature UL-rated, outdoor extension cords, a variety of property-friendly installation accessories and commercial-grade specialty decorations.
Will we need to hire an electrician?  
In most cases, no. But with larger installations, additional power sources may be needed.
How long does the install take & do I need to be home for the service?
The install will take anywhere from 2-24 hours.  In most cases the customer does not need to be home for the installation, maintenance, or take down.  However, you must be home to receive a bid proposal. In the case of extreme animated display, we may require your presence as we may require access to electrical components in your home or business.
Who do we contact for service should there be a problem?  
Contact Firehouse Christmas Lighting at 214-222-9339 or info@firehousechristmaslighting.com.
What if something happens to my lights?
If you have any problems, just let us know and we will respond ASAP.
Do you provide timers.
No, we do not provide timers, but we are happy to install one that you provide.
How far in advance do we need to contact you to get a bid and have the work done?  
Contact us as early as possible. The decorating season is short, and our schedules tend to fill up by mid-November.
Can we determine the time that you take the decorations down?
Yes.  We will work with you to schedule a take down appointment that is convenient for you.
Do we warranty acts of mother nature? 
No we do not warranty damage caused by mother nature.