Custom Installation
When you choose Firehouse to install your Christmas lights, you are choosing a team that works hard to assure a professional, crisp, clean look to your display. We custom fit the lighting so that there are no loose or extra light strings and we make sure that roof lines and windows, etc are nicely aligned – for a truly custom, professional look.
Custom Design
We can help you make your holiday decorating stress fee by designing an elegant professional display for you home or business. We have designed some of the largest Christmas light displays in the Dallas/Fort Worth area.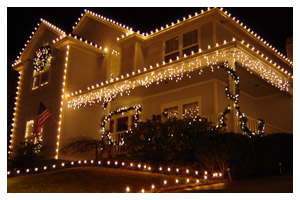 Our Guarantee
We will make any repairs in a timely manner usually within a few business days. Your first service call is included with each package and we offer a variety of expanded maintenance programs to help make sure your display is operating at top notch levels throughout the entire season.
Professionalism
We pride ourselves on the organization, timeliness, accuracy and courtesy of our people. We will always treat your home or business as our own.
Service and Support
We are available whenever you need us. Comments, questions, concerns, technical problems, bulbs outages – just give us a call and we'll have the problem solved within 72 business hours.
Product Quality
We use only professional grade lighting and electrical products so that you can rest assured that your holiday decorations will provide maximum value.
Safety
We take electrical safety very seriously. Some of the displays we install require up to 100 amps of dedicated electrical power. That's serious business. We work review every installation to verify safety specifications before ever turning on a bulb.